GHMC Elections: Politicians And Celebrities At Polling Booths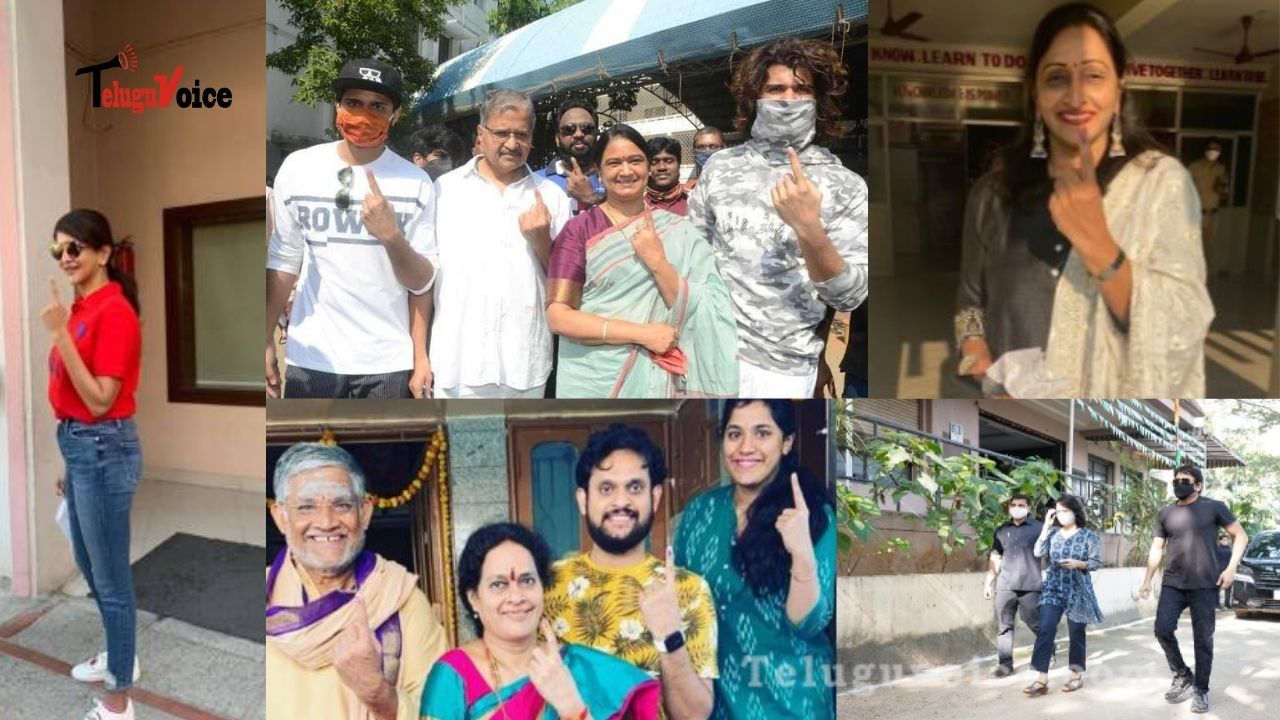 Voting for GHMC elections has started today, since 7 am and going to continue till 6 in the evening. Almost 74 lakh eligible voters are eligible to vote for the Greater Hyderabad Municipal Corporation elections. Polling has already began at 7 am and the election is taking place after more than a week of intense campaign.
All the arrangements have been made for today's voting by the Telangana State Election Commission with over 48,000 polling personnel and 52,500 police personnel.1,122 candidates are in fray in the Greater Hyderabad Municipal Corporation election, which is taking place in 150 constituencies spread over four districts.
The civic body election is a high-stakes battle for the ruling TRS, BJP, trying to make inroads, and Asaduddin Owaisi's AIMIM party. This has been the most furious and bitterly fought municipal elections ever in Hyderabad as a high-octane campaign by the BJP that flew in national leaders such as Amit Shah, Yogi Adityanath, JP Nadda hoping to convince Hyderabad people that a change was needed.
Many people were seen lined up at various booths to cast their votes. Union minister G Kishan Reddy voted at the Deeksha Modern School in Kachiguda. AIMIM chief Asaduddin Owaisi cast his vote at St Faiz High School. Telangana minister and TRS leader KTR was also seen casting his vote.
Tollywood actor and former Union minister K Chiranjeevi and his wife Surekha had cast their votes at Jubilee Hills Club. Chiranjeevi and KTR urged to all eligible voters of Hyderabad to exercise their franchise in big numbers to save our democracy.
The parties which are fighting to emerge victorious in the municipal polls are the ruling TRS, BJP, AIMIM, TDP and Congress. However, the direct contest is between the TRS, BJP and the AIMIM parties.
The counting of votes will take place on Dec 4, Friday and results will be declared in the evening. This year's election is witnessing voting through the paper ballot system rather than the EVMs.
Till now, many celebrities exercised their franchise in the GHMC election. Vijay Deverakonda along with his family was seen casting their vote and speaking to the media, he urged everyone to come and cast their votes.
Nagarjuna was seen in casual, all black ensemble and his Amala chose a blue cotton kurta and leggings, a video of the couple walking towards the polling booth is being circulated widely all over social media.
Lakshmi Manchu was one of the first actresses to cast her vote, she was seen in a red T-shirt that has India written on it, paired it up with blue denim and white sneakers. Producer Usha Mulpuri also seen casting her vote in the Hyderabad Municipal Elections in Sheikpet.
Tanikella Bharani shared a pic on Twitter and posted as " We all voted, you should vote too. This is our responsibility, our duty and our right". Director Krish also shared a pic on social media, with the vote mark on his finger.
Ram Potheneni also shared an image and posted, "You let them DIVIDE us..They will RULE us... You Stay Together for the Greater Good ..They will SERVE us.. Don't VOTE for U..VOTE for US..all of US!". Bellamkonda Srinivas was also seen at the polling station to cast his vote.