List Of Companies Disqualified Under The H-1B Visa Programme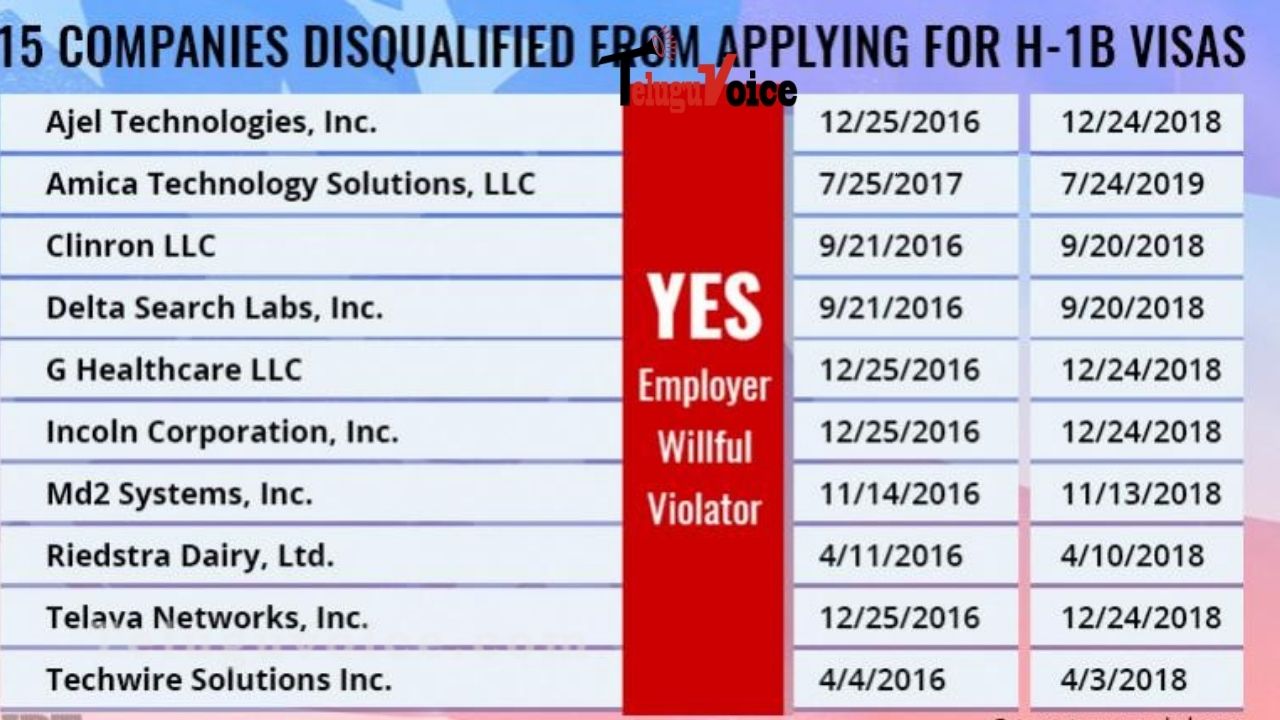 The US Department of Labor's Wage and Hour division maintains a list of employers who are debarred/disqualified under the H-1B programme. The list includes employers that are caught by the US agency to have committed either a willful failure or a misrepresentation of a material fact attestation.
These employers are banned under the H-1B visa programme by DOL for a certain period. Here is the list of these employers as it appears on the US DOL website.
Azimetry Inc
Willful Violator: No
Debarment Period: 9/19/2019 to 9/19/2021
Cloudpoint Systems Inc
Willful Violator: No
Debarment Period: 8/3/2021 to 8/2/2023
How We Fund It Inc
Willful Violator: Yes
Debarment Period: 10/16/2019 to 10/16/2021
Kimberley Fisher
Willful Violator: Yes
Debarment Period: 10/16/2019 to 10/16/2021
Mudiam Inc
Willful Violator: No
Debarment Period: 6/18/2020 to 6/17/2022
Reddy Rameswar
Willful Violator: No
Debarment Period: 6/18/2020 to 6/17/2022
Business Intelligence Solutions Inc
Willful Violator: No
Debarment Period: 7/23/2020 to 7/22/2022
Visionsoft International Inc
Willful Violator: No
Debarment Period: 9/23/2020 to 9/23/2021
Open Access Technology International Inc
Willful Violator: No
Debarment Period: 11/30/2020 to 11/29/2022
Paragon Skydive LLC
Willful Violator: No
Debarment Period: 2/5/2021 to 2/4/2022
Next Generation Technology Inc
Willful Violator: No
Debarment Period: 9/8/2020 to 10/8/2021
nvensys Inc
Willful Violator: No
Debarment Period: 4/29/2021 to 4/29/2023